So.Mn.Fan


Posts: 20313
Status:

offline

quote:

ORIGINAL: Bruce Johnson

How did the other fights go? I understand that there's another fighter from Minnesota.

Florian outworks Huerta
Lightweight Kenny Florian used a high work rate and mobility to earn a unanimous decision over Roger Huerta.
[+]
Enlarge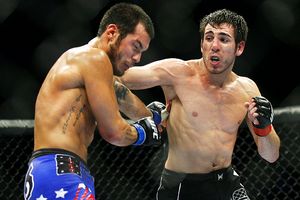 Ed Mulholland for ESPN.com
Roger Huerta, left, found himself on the wrong end of Kenny Florian's fists for the better part of three rounds.
Florian, an analyst on ESPN.com's "MMA Live," showed off his improved footwork and boxing skills to avoid Huerta's strikes and when the opportunity presented itself, Florian took Huerta to the ground where he landed several hard strikes. And when Florian attempted a rear-naked choke attempt Florian escaped it.
Florian continued to frustrate Huerta in the second by using footwork to avoid strikes, while relying on his 4-inch reach advantage to deliver jabs and a few hard right hands.
"I know how hard it is to fight Roger Huerta," said Florian, who improved to 10-3-0. "I trained very hard for this fight.
"I didn't want to get into a brawl with him. He is strong and technical with his kicks. He's tough as nails."
Florian completed the shutout (30-27 across the board) with a strong third round in which he caught Huerta (22-2-0) with several strikes to the head.
More http://www.startribune.com/sports/26479189.html?elr=KArksi8cyaiUo8cyaiUiD3aPc:_Yyc:aULPQL7PQLanchO7DiU


< Message edited by So.Mn.Fan -- 8/10/2008 9:13:27 PM >